VIMA Siding
Located at 99M 07C 55L (via Heathcote) or 104M 16C 45L (via Bendigo).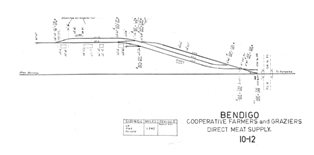 Identified as Co-operative Farmers and Graziers Direct Meat Supply - David Langley.
The construction of this siding, created to service what is now Mayfair Park and named Bendigo Freezing Company's Siding, appears to have commenced in 1920. The Victorian Railways Weekly Notice, WN52/20 of 28-12-1920, shows the entry, "Points to Victorian Co-operative Freezing Coy Siding secured by Staff Lock, Key is North Bendigo Junction - Axedale Electric Staff. Siding available for Way and Works operations only." This indicates that it was still under construction at the time.

Weekly Notice WN04/22 of 24-01-1922 shows a Goods Rates Book amendment showing the Victorian Co-operative Freezing Coy Ltd's Siding as "Open for Traffic".

Weekly Notice WN47/23 of 20/11/1923 states "Siding junctions with Wallan-Bendigo Line at 99M. Freight charges to terminus of siding at 99½ from Melbourne".

The siding is renamed, with a corresponding Weekly Notice WN02/45 of 09/01/1945 entry, as "Victoria Inland Meat Authority's Siding - formerly Bendigo Freezing Works Siding".

The siding remained operational for some time after the line was closed in the Up direction in December, 1958. Weekly Notice 1/59 of 3/12/58 advises "Line Bendigo Freezing Coy Siding-Heathcote closed". A baulk was placed across the line on the Heathcote side of Rifle Butts Platform, at 98m. 77c. in June, 1959 - at 696', or 212m, from the siding - WN25/59 of 23/6/59. This would have been to facilitate shunting into the siding which was only accessible from the Up end. Of course, the location of the baulk would have limited the length of any train set from the siding to the same length.
A Victorian Railways plan revision of 1983 shows the siding with the name of "Canada Packers (Aust) Pty Ltd".