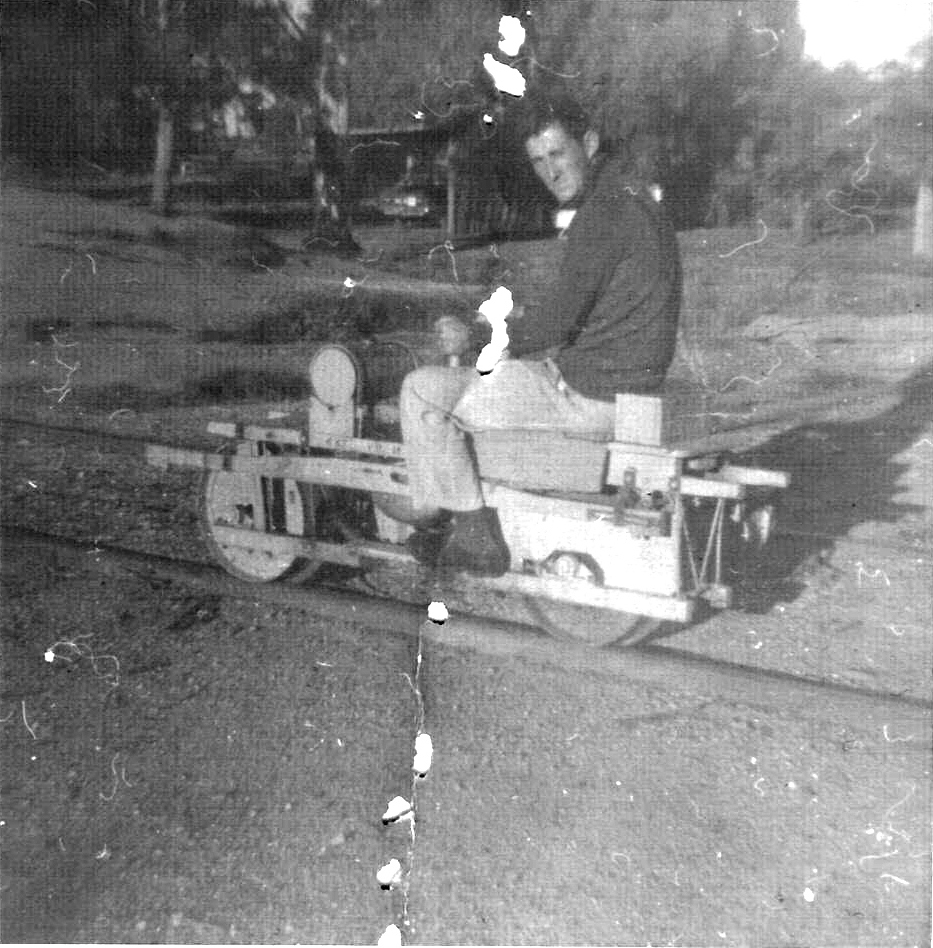 Kevin Crockett at Kotta Station, heading towards Lockington on an MT Track Inspection Motor early one morning in 1969, aged 21.
I was born in Tongala, Victoria, in May, 1948. By 1952 I had lived at Tongala, Lang Lang, Stanhope and, in 1952, my family moved to the Gunbower Estate, Gunbower on the property of C.R.G. Reid.

I commenced schooling at Leitchville, switching to Cohuna shortly after when the school bus route was changed so that it bypassed Leitchville. I used to occasionally see progress of the steam and black smoke from the trains that ran on the line about 400 metres from the house, not knowing, or even entertaining the thought, that one day, I would start a 25 year career with the organisation responsible for it. In 1956, my family moved to Lockington where I completed my schooling.
My father was a Share Farmer and as we always lived out of town, my first job on leaving school in 1963, was milking cows, initially for whoever wanted me at any time, and then for Keith Johnson until I entertained non-realised thoughts of joining the Royal Air Force. However, I ended up joining The Victorian Railways instead.
My railway career started as a Way and Works Branch Repairer on May 23, 1966 at Lockington on the Elmore-Cohuna branch line. I was 18 years and two days old at the time and had held my motor vehicle driver's licence for two days. After two and a half years of patrolling and maintaining the track section from slightly south of McColl, through Lockington, through Kotta to Roslynmead, I transferred to the Traffic Branch at Manangatang, attracting the rather unwieldy classification of Station Assistant Class 3 to be employed Assistant Stationmaster Class 4. Some hard study progressed me to Assistant Stationmaster Class 5 Acting Class 4 the following year and, in 1972, I qualified as a Stationmaster.

My only Stationmaster appointment, if you discount two shifts of Stationmaster Flinders Street, was at Glenrowan in 1972. In 1976 I was appointed to Traffic Inspector, shortly after, it was renamed Station Inspector, renamed again to Operations Officer a year or so later, in the Office of Manager Suburban Stations - a position in which I relieved for a few years as well as Relieving Area Stations Manager and Relieving Stations Manager. My final appointed position was Stations Manager, Southern, and this position was responsible for the Williamstown Pier, Altona, Werribee, St. Albans, Broadmeadows, Upfield, Sandringham, including the Sandringham, Beaumaris and Black Rock Bus Service, Stony Point and Packenham suburban lines.

I finally left railway employment, after a very few months short of twenty five years, on February 11, 1991, re-locating to Axedale in May, 1995.