Down - McIvor Road Station Site
Located at approximately 69M 1C 94L
McIvor Road Station detail.
McIvor Road Station Ground, a station which also was not on the first list, is not delineated on the plan. Within the ground, the line enters Bank 16 where it crosses a gully via a 5 x 11' openings bridge, crosses a double culvert at an unnamed and closed road, and runs through Cutting 11. The down end of the station ground, based on the length of the other stations, should be a few chains prior to the line commencing a 100C radius right curve, itself just before the 32M point - 69M 1C 94L from Melbourne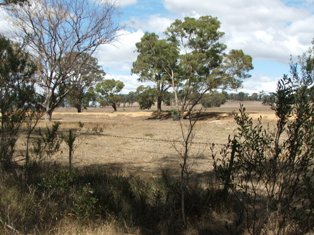 Looking along the access road from the highway at the Heathcote end of the station site. Kevin Crockett, 2015.
Once again, virtually no infrastructure remains. The Down side platform location is the most noticeable feature. At the Heathcote end there is some evidence of an approach road entrance from the highway, then running parallel to where a loop siding existed, and exiting back to the highway near the Armco barrier at the Kilmore end. The remains of culvert timbers can be seen at this point.