Down - High Camp Station Site
Located at 51M 49C 83L
High Camp Station detail.
The section of the grade diagram covering the Station Ground has been substituted on the plan, thus amending the original proposal for which there are no details.
The site is entered on a 1 in 611 down grade, through a fence on low Bank 105, runs through shallow Cutting 84A, to a surface forming to Bank 104, crossing a 3' barrel culvert. The line enters Cutting 84, cuts a fence and exits the ground before the end of the cutting on a 1 in 50 up grade. The length of the ground is approximately 24C 20L.
The up end of the small goods platform contains four square post holes with no evidence as to their purpose. The holes contain concrete footings and were probably associated with a ramp up to the goods platform.
A concrete floor remains on the passenger platform. The building to which this belonged had a rear loading platform and support posts are still visible. A close look reveals a steel track running left to right slightly above centre photograph. This equates to the bottom roller track of the van goods shed.
There are several concrete pads or floors visible in the station yard behind the passenger platform. These would obviously have been associated with staff housing. Houses themselves would probably have had stumps and timber flooring and evidence is not obvious.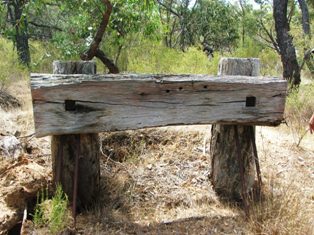 No.2 Road buffer stop, 90m North of Crawford's Road. Kevin Crockett, 2015.
Between the present day Crawfords Road and the buffer stop are the remains of the stock yards loading platform. Pieces of concrete, possibly from the stockyard fencing, are also scattered in this area. The original road crossing is behind the buffer stop as depicted in the image. The nearby Northern Highway was re-aligned in the 1970s.
Comments and suggestions may be e-mailed to