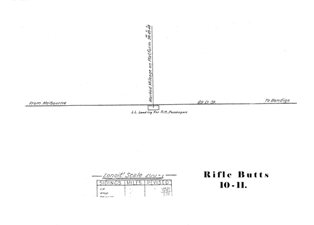 Rifle Butts layout diagram - David Langley.
Rifle Butts Platform was not part of the rail line when it opened in 1888. Somewhere around 1899, due to the encroachment of habitation, the need for a new location for the existing rifle butts shooting range was discussed. A new site was eventually arranged in the nearby Wellsford Forest and permissive occupancy was granted in November 1899. In 1901, the need for a 'siding' to provide for the militia men travelling by train to attend the rifle butts was discussed. The original platform was to be constructed some time after 1902. I have not narrowed down the actual year as yet.

In May, 1933, the location was open for passengers only with No-one-in-Charge. It was additionally known as Rail Motor Stopping Place No. 35 in June 1933. In November 1937, the passenger platform was dismantled and a landing space, on which passengers could alight, was provided.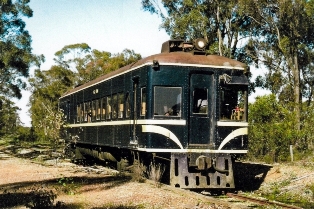 DERM heading towards Bendigo, 1982 - source unknown.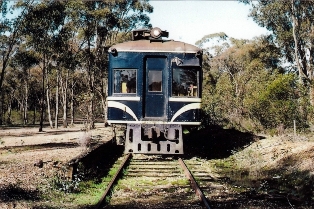 DERM heading towards Bendigo, 1982 - source unknown.
A Diesel Electric Rail Motor was on the line in 1982, possibly in connection with some event at Rangelea.